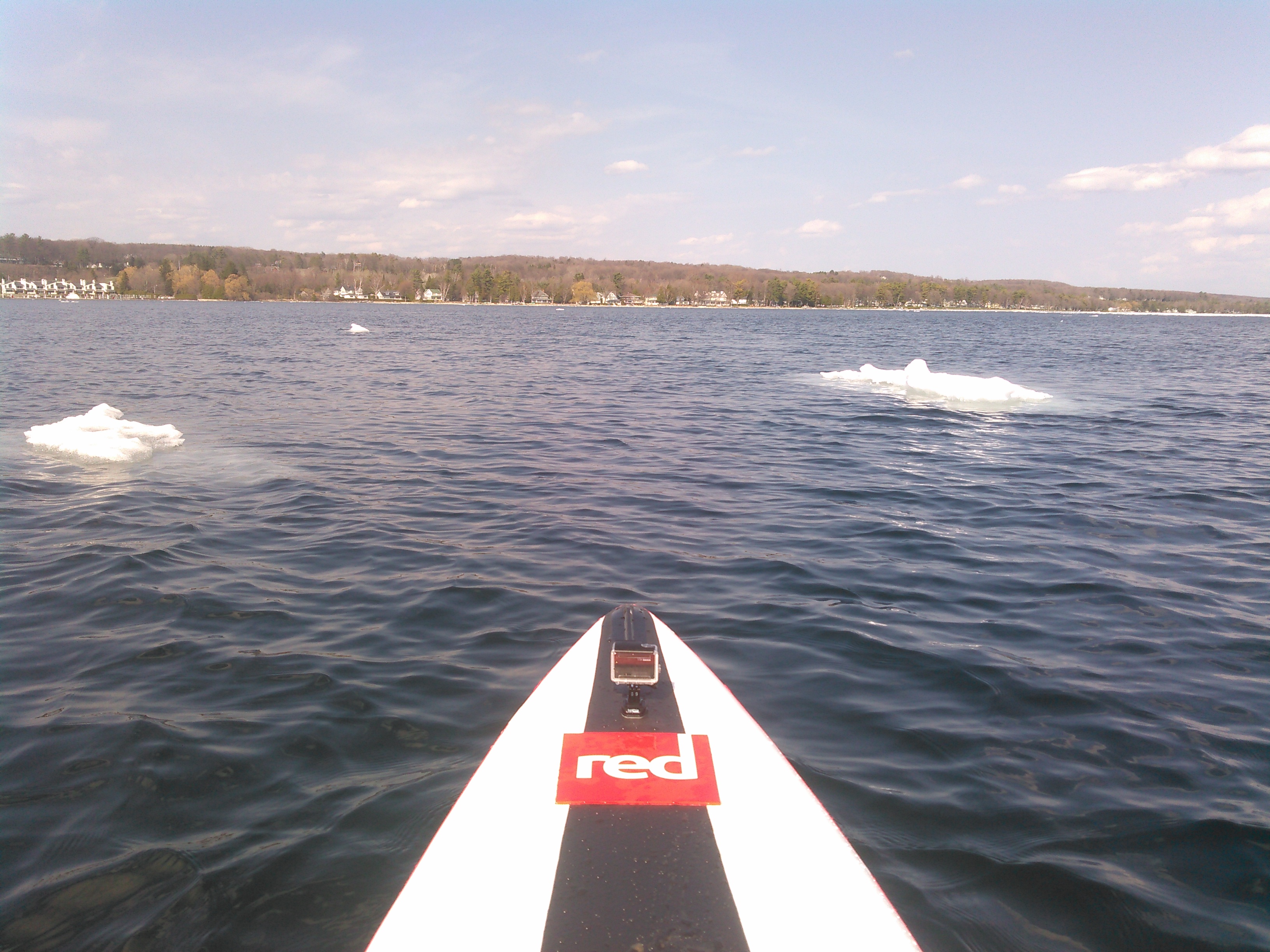 Wow. Paddleboarding with ice burgs is awesome! Harbor Springs, Michigan has some amazing water to paddle. My first SUP experience of 2015 includes some sweet go pro footage of me paddle boarding to the point in Harbor Springs. I am personally escorting the ice out of the harbor on this 70 degree day in May. I am so stoked to SUP in Harbor Springs this spring and summer. The water is more crystal clear than the tropical waters of the Florida Keys where I learned paddle boarding. There was a good breeze today and yet the harbor waters remain unaffected, the perfect water for SUP.
The last time I paddled was November 21, 2015. I remember deflating my board after an 11 mile paddle admiring mega yachts up the ICW in Fort Lauderdale. Picked up my Red Paddle Co. inflatable SUP and walked across the street to catch a few waves. I am not a great paddle surfer. I have only paddle surfed a few times. Wow the ocean is powerful. As I remember it. Today, however, posed a different thrill. The excitement and adventure of paddle boarding in frigid Lake Michigan as the ice burgs float away.
I admit that since I came to Michigan from Fort Lauderdale that I knew I was going to SUP with ice burgs. I just had a feeling. So today was so anticipated. I wouldn't have ever stepped foot in the water if it wasn't for the peace of mind my Ocean Rodeo Soul dry suit gave me. I did my research. I searched for the best dry suit for paddle boarding in cold water and weather. Thank you Ocean Rodeo for constructing an amazing dry suit, perfect for SUP in cold water. I felt sealed and protected in the dry suit. I also had excellent range of motion. The Soul dry suit is the best dry suit for SUP period.
A shout out to Red Paddle Co. for developing the best inflatable paddle board I have ever paddled. I am ridding the 14 foot Elite inflatable race board. What a paddleboard! The only 25 psi inflatable SUP on the market. The 14 foot inflatable race board handles great in the protected waters of the harbor and in the open water. This was my first paddle in nearly 6 months and I reached a high speed of 8.5 mph. The 14 Elite race SUP is a very special board to me. My first 2 SUP racing victories where on a Red Paddle Co. 14 foot SUP. This year's board includes handles on the front of the board for race stats and a carbon fin! Honestly, the best part about my paddle board is that it is portable. I can take my paddle board anywhere because it deflates and fits into a back pack. I can fit about 7 inflatable SUP's in my Volkswagen Jetta. No joke. The Red Paddle Co. race boards look super cool as well. My 14 ft Elite race paddle board is the perfect combination of form and function.
I am super stoked to paddle again tomorrow. I may even head out later to catch the sunset. I miss watching the sun go down on my board. Paddle boarding with ice burgs was pretty awesome. I will remember my first SUP experience of 2015. How many of us are paddleboarding with ice burgs? I am always having so much gratitude for the water and nature.
If anybody is interested in paddling with me before summer please contact me. Harbor Springs Paddle Board Club. 231-622-9084